Women love to experiment with colors on their hair. Maybe it's your time to get a new hair color. But you don't know about Ombre and Balayage hair color. The most common question women ask is what's the difference between ombre vs balayage? That's why we are here to define the answers.
Usually, balayage vs ombre hair color is a common question amongst women. Both balayage and ombre are different techniques and hair color methods. We will discuss this further in the article.
---
Different hair Coloring techniques
There are a lot of hair color options to choose from. If all of these hair color techniques seem a bit overwhelming, use the following handy guide to help you to decide which hair coloring technique to choose
What is Balayage hair color?
Balayage originally came from France. It's a French word that means "sweep/swept". That means balayage is a sweeping technique. If we explain in depth-Balayage is a freehand painting technique. In this technique, you will choose some hair strands and highlight them by sweeping the surface.
You will paint freehand on the small triangular surface of the hair. The application starts 3 inches away from the roots and slowly becomes heavier at the end. Each section gets a natural effect because of the concentrated lightener. The translation goes from dark to light horizontally. And the translation looks natural and sun-kissed.
Balayage is the most popular coloring trend in the hair color industry. Now you can achieve The perfect highlights at home with these coloring brushes.

Learn how to balayage hair at home
---
What is an Ombre hair color?
Ombre hair color is the most common and low-maintenance hair color. They also originated ombre in France. It is a French word that means "shade/Shadow". That means it's a color that gives your hair a natural shadow effect.
Usually, ombre colors are heavier on the roots and lighten up at the end. We can combine ombre color with any color. You can choose any vibrant color of your choice and style your hair. In this technique, all of your hair ends going to be affected. Ombre is basically a gradient of colors.
---
Differences between Ombre vs Balayage
Although Ombre and Balayage are similar, still some factors differentiate them. Balayage and Ombre are not same. Ombre is a style and balayage is a free-hand technique. You can achieve Ombre by using the balayage technique. Here are some factors that make a vast difference between ombre and balayage.
Ombre is a particular look. But we can customize the balayage hair color. Ombre gives you bold hair color. And balayage technique gives you a natural, sun-kissed look. We start the ombre hair color process from your jawline and finish at the end of the hair.
Balayage hair color starts from 2 inches away from your roots. Stylists proceed with ombre color with gradual technique. And they proceed with balayage color from 2 inches of your roots. You can choose any bold color for an ombre look. But you have to choose a certain color for the balayage look. But if you want to experiment with different colors, then go for it!
---
Similarities between Balayage vs Ombre
Few points match Balayage with ombre hair color. Both of them give you a natural look.
Most of the foil highlights need constant care at the salon. But for ombre or balayage, you can take care of them at home. Also, they are pretty reasonable rather than other techniques. Whether you choose balayage or ombre, both are best for any length. Even if your hair grows from the root, the hair color won't look bad.
Balayage and ombre allow your hair to grow naturally. They settled the colors in a way so that they don't look unblended while growing your hair.
---
Which hair style is better?
After finding the similarity, you can get confused about whether to choose balayage or ombre for your hair. Balayage vs Ombre for short hair or curly hair is the biggest confusion for some women.
If you're looking for something bold, then you should choose an Ombre hair color. If you have long hair, then you can choose balayage or ombre either.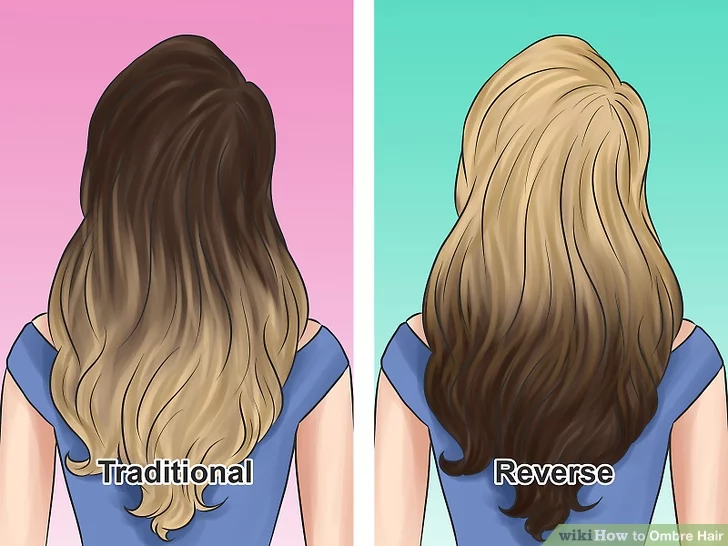 Curly or subtle wave hair brings out the balayage even more. Balayage looks subtle and natural in wavy hair. So if you have wavy hair then go for balayage hair color. You can try balayage on any type of hair. Straight, curly, black, brown, blonde, Asian, any type of hair is suitable for balayage hair color.
Balayage is convenient than Ombre hair color. You can customize the balayage to your exact needs. Even celebrities and many Instagram influencers have balayage hair color.
---
How to protect Ombre or Balayage hair from damage?
Using bleach to your hair makes it rough and breakable. Proper care and technique can save you from hair damage. You need to maintain your hair properly.
Tips to maintain Ombre or balayage hair color from damage
Chemically treated hair stays dehydrated. That's why hydrating your hair and roots will make it shiny.
Always put oil in your hair before shampoo.
Heat the oil for 1 min with a double boiling process to heat the oil.
Use a mild shampoo and conditioner for bleached hair.
The sulfur-free shampoo will protect your hair from damage.
Wash with cold water and don't use hot water in your hair.
Do not overuse heat-styling machines. Using too much heat will damage your hair and break it.
Always use the heat-protecting spray before straightening or curling your hair.
---
Common FAQs
Is ombre or balayage better on straight hair?
Ombre looks great with straight hair. And balayage is more on the wavy side. You can try a balayage color with straight hair. The result won't be as good as wavy hair. Because the wave brings out the balayage highlights more than straight.
Which one costs more? Ombre or balayage?
Ombre and balayage both cost reasonably than other hair colors. Where ombre is easy to apply, that's why it costs relatively low. Balayage hair color requires technique and practice to get the best result. That's why balayage costs more than ombre hair color. On an average, it costs between $80 and $200 for ombre and between $150 and $250 for balayage.
Balayage or ombre which color is low maintenance?
Ombre and balayage both are low maintenance. They don't need often salon visits like highlights. You can take care of them at home. Whether you do ombre or balayage, both of them don't need high maintenance. 
Is balayage less damaging than ombre?
Balayage color only requires some hair strands. That's why you need less bleach to highlight them. In that case, balayage is less damaging than the Ombre hair color.
---
Final Thoughts
Whether it's Balayage or Ombre hair color, both are best for your hair. Both of the colors are in trend right now. From celebrities to influencers, everyone is going to the trend. Both of the colors go with any occasion or any outfit. Ombre vs balayage colors allow your hair to grow from the roots without looking unblended. Whether you color your hair ombre or balayage, both of them will look outstanding on your hair.