Selecting the perfect shade of foundation is vital. Once you've found your most suitable fit, applying makeup is exceedingly simple. The best foundation for dusky skin in India will allow your skin's quality to really shine. As it'll seamlessly blend with your complexion and fade into your skin. Dusky skin is said to develop the least skin problems and looks exquisite even without makeup.
South Asian especially Indian female skin tones cover a range of shades. All that matters is that they have a variety of undertones. What makes our skin tones so challenging to shade match is our peculiar mix of undertones.
Based on my experience, I've compiled some good suggestions for selecting the best foundation for Indian skin tone. Always check each item carefully prior to spending your money. View them as an investment to feel successful. This ensures you have a return on your investment.
---
How to Choose the Right Foundation for Dark Skin Tones
We always get confused when it comes to choosing the right shade for our skin tone. Among the hundreds of shades it's hard to choose the right one. But it is really important to choose the right shade that blends perfectly with our skin tone. Here are some key elements that will help you to select the right one for your skin.
Based on Skin Tone

Golden: Dusky skin with a warm golden glow to it.
Chestnut: Woody with a reddish brown tone to it.
Espresso: Rich chocolatey shade with deep tones.

Based on Under Tone

Warm/Yellow: When your veins appear to be green. Your foundation should have a yellow base to it.
Cool/Pink: When your veins appear to be blue. Your foundation should have a pink or blue base to it.
Neutral: When you have a mix of both green and blue veins, you have neutral undertones. Your foundation should have a neutral base.

Based on Skin Type

Oily: Pick a foundation that helps to control oil in your skin. A matte finish foundation, preferably in mousse format.
Normal: Pick a shade that gives light coverage, just enough for an even skin tone.
Sensitive: A powder format is best suited for a sensitive skin as it does not seep in and cause any reactions.
Dry: Pick a foundation that has moisturizing properties, like a cream or liquid foundation.

Based on Formulation for Foundation

Liquid: Pick a liquid foundation is ideal if you have more time to blend it into your skin.
Powder: Pick a powder foundation is best for day use, when you do not want too much of coverage.
Mousse: Pick a mousse foundation when you want good coverage and a matte finish.
Cake: Ideal for full coverage and suited for oily skin. Blend with a beauty blender.

Based on Coverage

Light: This is ideal for daily office wear.
Medium: This is ideal for an event when you want something special but not apply too much of makeup.
Heavy: This is ideal when you want to hide too many open pores, blemishes, and patches on your skin.

Type of Finish
---
Best Foundation for Dusky Skin in India
---
Ilia Super Serum Skin Tint SPF 40 Foundation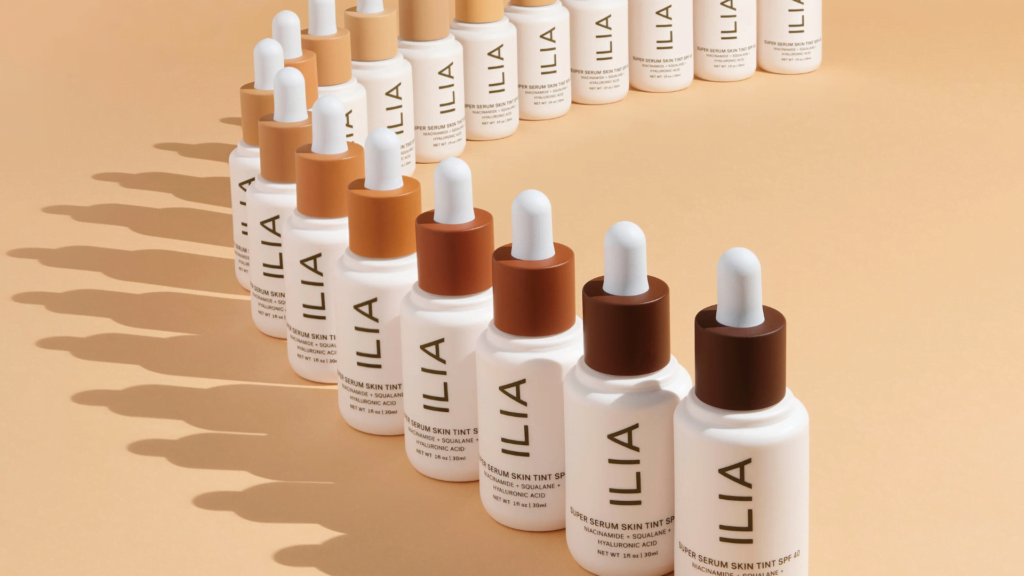 This is my favorite one for a number of reasons. It's designed with warm, neutral tones and the product's SPF mark doesn't leave a gray finish on my skin. The dewy finish provides lightweight, buildable coverage that blends seamlessly into skin. One of the great thing of this product is hyaluronic acid. Because Indian skin is genetically predisposed to hyperpigmentation. The niacinamide in the formula is another benefit as it visibly improves and smooths skin's texture as you use it throughout the day.