As a teenager, it is hard to buy expensive lipsticks every time. Well, thanks to elf liquid matte lipstick to save every teenager hard-earned money. I used to buy their liquid matte lipstick for their affordable rate. Even if you are late for work and don't have time to put makeup on, only a lipstick can save your day. And if the lipstick is matte, it will last all day long and will not smudge while you eat or sweat.
About elf liquid matte lipstick
This liquid lipstick makes a remarkable statement that delivers an intense pop of rich color. In just one stroke, you will get a smooth and flawless matte finish that will stay the whole day long. Reapply your desired shade as frequently as possible, and the lipstick will not dry out.

ELF Cosmetics
What does ELF stand for in e.l.f. Cosmetics?
ELF liquid matte lipstick is a lip product from the "e.l.f Cosmetics" brand. The e.l.f. stands for Eyes Lips and Face. I am obsessed with their liquid matte lipstick from the first day I bought it. It feels very lightweight on my lips and does not dry out like other matte lipsticks. Now, most brands are producing vegan and cruelty-free products. And every product of e.l.f cosmetics, including their lipstick, is Vegan and Cruelty-Free. They produce quality makeup and skincare products. This fact attracted me the most when I research affordable lipstick. An affordable lipstick with vegan and cruelty-free ingredients is a win-win situation for everyone.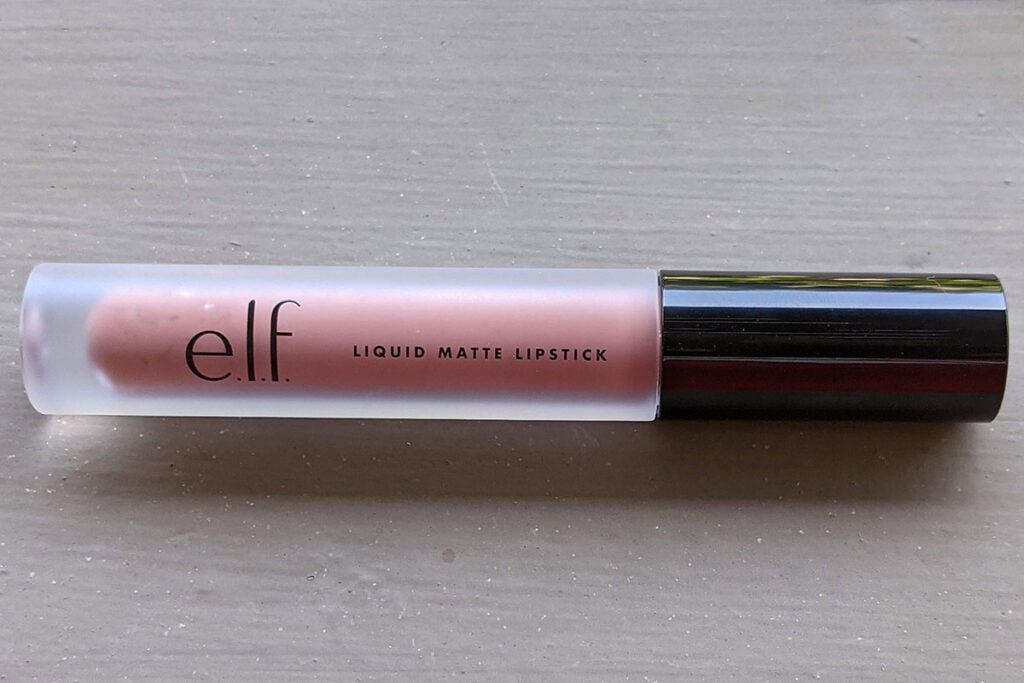 Usually, my lips are pretty dry every season, and having lipstick with vitamin E in it could be a blessing for me. That's when I discovered e.l.f. Liquid matte lipstick. They enriched the liquid lipstick with vitamin E. And with their many other ingredients,
---
Is ELF a good cosmetic?
Most liquid lipsticks dry out your lips and don't come off seamlessly. But for e.l.f liquid matte lipstick, it comes off easily without making your lips dry. I like the consistency of this lipstick which is Moussey. The texture is very fine and smoothly glides across my lips. The best part I liked about the elf liquid matte lipstick is its pigmentation. I only needed one swipe to get the ultimate color on my lips. Also, the lipstick bottle has enough products to go in the long run. I like the weightless formula of this elf liquid lipstick and it does not feel heavy on my lips.
This is the perfect blend of color that looks great with liner or without, layered with gloss or without. The matte look lasts easily half the day. I keep trying other colors to add variety. But end up always layering with this one, anyway

A Regular Customer
Also, the packaging is quite simple, and it has a slim diamond-shaped applicator. I wore the lipstick for over 9 hours and it didn't smudge or transfer into anything. The shades of the lipstick go with every skin tone. I really like the shade praline on my lips which is suitable for every outfit. You can see elf liquid matte lipstick praline review from here if you want to buy one.
Other shades are also very pigmented from this collection. I got 6 shades from elf matte lipstick. And they look to do good on my lips, making it look plumper.
Pros
Very pigmented
The shades are perfect for every skin tone
They are reasonable
Weightless and transfer-proof
Cons
The formula dries down immediately so you have to be quick while applying it.
A little patchy.
We found that the lipstick is a little patchy and dries out quickly from our competitor's website. You can also read their review of elf liquid matte lipstick to get a depth experience.
---
E.l.f Liquid Matte Lipstick Ingredients
The ingredients of e.l.f liquid matte lipstick are free of harmful chemicals that can ruin your lips. The lipstick is alcohol-free, fragrance and essential oil-free.
Here is the ingredient list:
Isododecane, Quaternium-18 Bentonite, Hydrogenated Polyisobutene, Triacontanyl PVP, Propylene Carbonate, Phenoxyethanol, Kaolin, Tocopheryl Acetate (Ve). May Contain: Titanium Dioxide (CI 77891), Iron Oxides (CI 77491, CI 77492, CI 77499), Red 28 Lake (CI 45410), Red 7 Lake (CI 15850), Red 6 Lake (CI 15850), Manganese Violet (CI 77742), Blue 1 Lake (CI 42090).
These ingredients are safe for your skin and keep your lips hydrated all day long. If you want more information about elf matte liquid lipstick ingredients then check this website. They have ingredients explained to make sure you are putting the right thing on your lips.
---
How To Use Elf Liquid Matte Lipstick
Like other liquid matte lipstick, you can put the elf matte lipstick on top of any lipstick to make a new shade. The first thing you want to do before applying elf liquid matte lipstick is to exfoliate your lips. You can use any moisturizing lip balm, then gently scrub your lip with a soft towel. By doing exfoliation before lipstick, all the dead skin cells of your lips will come out quickly.
Then apply the elf liquid matte lipstick on your bare lips, starting from the center to the outward motion. Only one swipe of the lipstick is enough to give you that perfect pigmented pout. But you can apply the lipstick as much as you can without drying out your lips. After that, layer the lipstick with a lipgloss of chapstick to achieve a glossy look.
---
Elf liquid matte lipstick swatches
You will get a shade for every mood and every outfit. These swatches are available in different rich colors. These shades will give your lips a perfect tone in every lighting.
The shades of elf liquid matte lipstick are:
Berry sorbet
Red vixen
Mauvelous
Blushing rose
Wine tour
Coffee
Vampy violet
Blackout
Smoky taupe
Tea rose
Praline
These rich shades are available on the amazon and elf cosmetics websites. Red vixen from the collection is the bold red lipstick that will accompany any outfit, especially at dinner parties. If you want a more nude lip look, go for Blushing rose or Coffee shade. To get the live swatches of elf liquid matte lipstick, check out this video.
---
Common FAQs
Is elf liquid matte lipstick long-lasting?
Elf liquid matte lipstick stays on your lips for the whole day and does not smudge off easily. Even if you eat oily food, your lipstick will not come off quickly. This long-lasting liquid matte lipstick will give you a perfect pout and you do not need to touch it up every hour.
Is matte lipstick harmful to your lips?
Matte lipstick dries out your lips by soaking all the moisture. And if the ingredients contain too much lead, then your lips can damage. That's why I always check all ingredients before you buy any matte lipstick.
How long does liquid matte lipstick last?
A long-lasting liquid matte lipstick can last up to 12 to 18 hours. Some liquid matte lipsticks these days can last over 24 hours depending on their performance. Also, some brands claim their liquid matte lipstick can stay up to 48 hours without smudging.
Which lipstick is best, liquid or stick?
Solid bullet lipsticks keep hydrated your lips for the whole day. Elf liquid matte lipstick contains Vitamin E that keeps your lips hydrated. Other than that, liquid matte lipstick can dry out your lips. Because it does not contain any Vitamin E. that's what many people prefer stick lipstick for hydration.
How do you keep liquid lipstick on all day?
Exfoliating your lips before you apply liquid lipstick helps to keep the lipstick on all day. Make sure you exfoliate your lips with an exfoliator brush. Then put some chapstick on your lips. Then remove the chapstick with a soft towel or tissue then apply the liquid lipstick. By doing that your lip's dead skin will go away. And the lipstick will stay all day long.
---
Final verdict
If you are trying to buy e.l.f liquid matte lipstick, then what are you waiting for. The most affordable brand elf cosmetics is offering you the prettiest shades you can own. These shades are perfect for any occasion and any outfit. Their vegan and cruelty-free motto are saving the earth and you should join with them. This weightless formula will not feel heavy on your lips. So do not forget to get this budget-friendly lipstick.