Watches are the best accessories to emphasize your fashion in a minimalistic way. To look fancy or fashionable, you don't have to spend tons on a watch. A perfect watch can go with every outfit and every occasion. A lot of people like to collect stylish watches. If you're not one of them then here are the top 7 best women's watches under $100.
You might think that finding the perfect ladies watches under 100$ is difficult. But we have collected some watch brands watches that look luxurious plus decent. Watches that are high quality at a low price are listed in this article. Let's dive into it.
Discover Stylish and Affordable Women's Watches Under $100 in 2023
---
How we selected the best affordable women's watches?
We selected these watches for those that are on a budget. If you're a student then you don't need any luxurious watch brands right now. Or maybe you just entered a job and are not getting paid a lot. In that case, you need watches that are reasonable and affordable. Sometimes you don't want to spend unnecessary money on small things. That's why we selected the top 7 best watches for women under $100 according to your preferences.
---
Fossil Women's Riley Stainless Steel watch
Having a classic watch with sporty features is now under 100 dollars. Fossil women's stainless steel watch is suitable for any occasion. It has the quartz movement with three separate sub eyes.
The watch will show you the exact date of the month, 24h time, and the week at once. Its stylish design with a hardened mineral crystal lens is going to catch everyone's eye. This watch is suitable for women aged 20 to 40.
Pros
Water resistance to 300Ft (100M)
Suitable for bathing, swimming, and snorkeling
Has stopwatch functionality
Cons
Not suitable and resistant enough for scuba diving
---
Nine West Women's Strap Watch
A smart and trendy watch for schools and office work. This watch matches every outfit. Best for everyday use. The modern and classy look will give your dainty wrist an extra look. The grey strap with buckle closure hugs your wrist perfectly.
It features a Japanese quartz movement with an analog display. The Domed mineral crystal lens is noticeable and striking. Nine west women's strap watch features a matte white dial and rose gold-tone hands and markers. All of the features make a unique design for teens and adults.
Pros
Suitable for office, school, and casual meetings
Looks expensive
Good quality
---
Anne Klein Women's Bangle Watch and Bracelet Set
A watch with accessories under 100$? Sounds impossible. But it's true. The Anne Klein women's watch comes with extra accessories under 100 dollars. It is one of the cheapest and luxurious women wear watches at the same time. The watch comes with a chain bracelet, a bangle with enamel inlay.
Moreover, the set includes a bangle accented with 36 premium crystals. You can wear these bangles even without the watch. It goes with any casual party. It features a standard mineral dial window with a 32 mm alloy case. The golden tone of the watch catches everyone's attention. This watch is best for adults from age 20 to 30.
Pros
Best for party's, dinners, and wedding occasions
Comes with extra accessories
Looks luxurious yet at a cheap price
Good quality material
Cons
Not water resistance
Not suitable for everyday use.
---
Timex Women's Easy Reader Two Tone Expansion Band Watch
If you need a watch that is easy to read then here it is. Timex women's easy reader will keep you on track every time you go out. The best feature is it has a quick-release strap. That means you can replace your straps anytime with leather straps.
The iconic simplicity of the collection is what we are looking for. A two-tone 12 mm expansion band can fit a 7.2-inch wrist. That means from child to adults anyone can wear this watch without any difficulties.
Pros
Best for party's, dinners, and Can wear daily or occasionally
30m(100 feet) water resistance
Goes with any outfit
High-quality materials
Features quick-release strap
Has expansion band.
Cons
Isn't suitable for deep water or activities like scuba diving, swimming and bathing
---
Casio Women's LQ139A-1B3 Black Classic Resin Watch
Want to look fashionable in an exquisite way? Then Casio women's black classic resin watch is here. A simple yet elegant design only for minimalistic people. The watch is going to sit on your wrist and make it decent and elegant. Complements every outfit and occasion.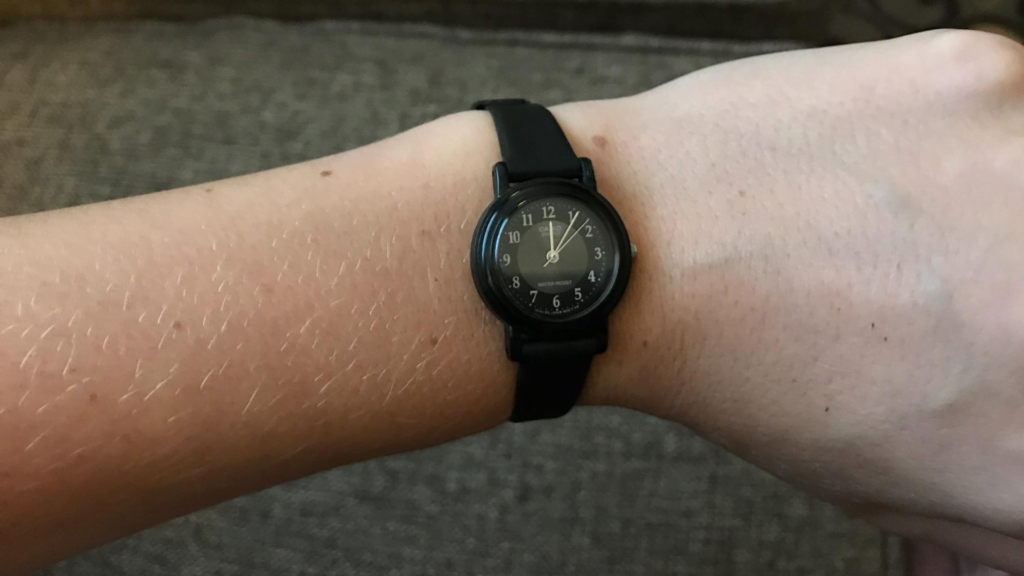 Whether it's a school or office, the watch is going to help you to reach on the right time. Classic design features a logoed dial with Arabic numeral markers. It has quartz movement with an analog display. Also highlights the 26MM resin case with a resin dial window. Casio women's black resin watch is suitable for every age.
Pros
Small and lightweight
Best for teens and adults
Suitable for everyday use
Water resistance
Cons
Not suitable for deep water
Battery dies quickly
---
Speidel Scrub Original Medical Watch
If you're a nurse or a medical team member then this watch will be your work buddy. Speidel scrub features a pulsometer scale for 30 beats. It helps to read your pulse after taking 30 pulse beats. The 100% silicone band will give you a perfect grip on your wrist. 3 hand Japanese quartz movement features a white dial and 24 & 12 hours markers. Best for nurses and medical members. Also accurate for age 20 to 50.
Pros
Water resistance up to 50 m
Best for medical colleges and hospitals
Hours and minutes have a glow-in-the-dark feature.
Cons
Sometimes it stops keeping time.
---
Skagen Freja Stainless Steel Mesh Minimalist Watch
This is the last on our list. But the most elegant and simplest watch you can own. This stainless steel case model is standard for every age. Students from school and colleges, workers from offices and housewives can wear this watch. Best watch for everyday use.
Wear this watch to every occasion. The simplest stainless steel case design is the main feature of this watch. Sandblast dial with two-hand movement by linear and dot index is taking our attention. Feel comfortable with a leather strap with buckle closure.
Pros
Complements with any outfit
Water-resistance 30m (100ft)
Good quality
Lightweight and clear
Cons
Not suitable for bathing and swimming
---
Things to consider while buying the best watches for women under $100
Sometimes you won't get every feature in inexpensive products. In that case, you have to consider some features to have it at a cheaper price. Here are things to consider before buying cheap lady's watches.
Minimal design
If you're having a watch for under 100$ then the design will be simple. It still looks luxurious and decent. Also in case you want to look chic in a minimalistic way, a simple design will suit you.
Low tier movement
Tier movement controls the mechanism of powering the watch. Cheap watches have low-tier movements. The watches are going to tick once per second. But some low price watches have Japanese quartz movement. They are high in tier movement. You might or might not have to consider the tier movement.
Key features
If you're having a low-priced watch then some features are not going to be there. Some cheap watches don't have water resistance features. Also, some watches don't have three hand movements. You won't get every feature in one watch at this lower price. Hence some features have to be considered to get it at a lower price.
---
Common FAQs
What is the best watch size for women?
The accurate size of the watch for women is 34mm – 40mm case.
Which wrist does a girl wear watch?
Left wrist. Women who are working constantly usually wear a watch on their left wrist. But if you're at a party or occasion you can wear it on the right wrist. 
What type of watches should a woman own?
There are a lot of watches a woman should own, e.g. leather band watch, sports watch, smartwatch, metal band watch, chronograph watches.
How do I choose a woman's watch?
A woman should choose her watch according to her skin tone. If you have a cool tone then go for a silver or stainless steel band. And if you have a warm skin tone then go for rose gold or golden tone.
Do you wear a watch above or below the wrist bone?
Normally you would wear a watch over the wrist bone.  Wearing too low from the wrist bone doesn't look flattering. Also wearing too high from the wrist bone doesn't look good either. Hence you should wear a watch over the wrist bone.
Can you shower with your watch?
If your watch is water-resistance 30m (100ft), you can shower with it. But if your watch is not water-resistant then do not shower with it. 
---
Final Thoughts
A watch is the most elegant accessory for women. It keeps us on track and makes our time obedient. Having a watch is convenient and fashionable. Don't waste a lot of money on a simple accessory. Hope this article will help you to find your perfect watch for under $100.